4 Reasons You Should Be Sending Text and Email Billing Statements
Learn how Dentrix Ascend Online Payments makes it easier for you to send billing statements and makes it more convenient for patients to pay.
Maintaining a healthy cash flow is fundamental for a dental practice, and patient payments are a big part of that. Ideally, all patients would pay their full balance at time of service. But that's not always possible, which means you have to send billing statements to collect the remaining balance.
Dentrix Ascend Online Payments allows you to create electronic billing statements and send an email or text message to patients with a link to view their statement online. Patients don't have to create an account or log in to anything. They only need to verify their first and last names and birthdate to see their statement. The email or text also includes a link patients can use to pay their bill online, and that payment automatically posts in the Dentrix Ascend Ledger.
Watch the webinar recording called "How to Boost RCM With Text Message Billing and Online Payments" to learn more about how to use Dentrix Ascend Online Payments.
Still not sure if electronic statements are a good fit for your practice? Here are four reasons why sending electronic billing statements and offering online payments is a vast improvement over your current billing statement methods.
1. You'll Collect Balances Faster by Making It Easy to Pay
Even though we live in the digital age, a lot of dental practices are still stuck in the paper era. It's time to evolve to fit your patients' needs.
Most people — 85 percent of American adults, according to Statista* — have smartphones, and they are constantly checking texts and emails and making online purchases. Take advantage of their existing habits by sending them billing statements using their preferred method of communication, then allow them to pay their balance online immediately.
With Dentrix Ascend Online Payments, you can send a link via text or email to the E-Statement page (see Figure 1), which is a high-level summary of the bill. Patients can either log in to the secure portal to see the full bill, or they can pay part or all of the bill directly from the e-statement page. In just a few taps, patients can take care of their bill and get back to their busy lives.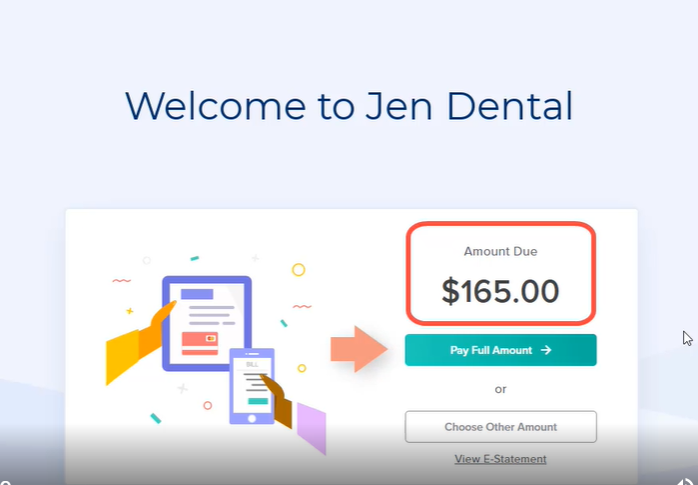 Figure 1. The E-Statement page. On this page, patients can pay all or part of their bill, or they can click through to the secure portal to see their full e-statement.
When patients can pay their bill right from the text or email message they receive, they don't have to find time to write out a check and mail it or call the office during office hours to make a payment over the phone. They can pay whenever it's convenient for them, which means you'll get the payment faster than you would have if you were waiting on a check in the mail or their phone call.
Watch the video to get an overview of Dentrix Ascend Online Payments and see how it works.
* https://www.statista.com/statistics/219865/percentage-of-us-adults-who-own-a-smartphone/
2. Electronic Statements Are Easy for Your Office Team Too
Dentrix Ascend Online Payments uses the same billing statement features in Dentrix Ascend that you're already using to create printed statements. You don't have to learn new processes in a separate program to send electronic statements.
Sending email messages doesn't require printing on special paper, stuffing envelopes or adding stamps to each statement, so your overall cost for sending statements is lower than it used to be. And it's not only the cost of the paper and stamps that is reduced. When your team members don't have to spend time folding, stuffing and mailing statements, they can spend more time filling holes in the schedule or following up on outstanding insurance claims.
3. You Can Bill as Often as You Want
Sending electronic billing statements with Dentrix Ascend Online Payments can impact your cash flow by providing convenience to patients and helping you collect balances faster. If you're following the traditional method of printing and mailing statements to patients once a month, you're not driving immediate cash flow.
Online payments give you the flexibility to bill at any time: immediately after treatment, twice a month, after receiving insurance payments or in any other configuration (including, if you want to stay traditional, once a month). That flexibility gives you unprecedented control over your cash flow.
4. Online Payments Are Posted in the Ledger for You
Not only is paying online convenient for your patients, but it also gives them a few payment options. They can choose the amount they are able to pay, and, once they've made the payment, they will receive a receipt they can print and save.
But the convenience doesn't stop there. Payments that patients make using the link in their email or text statement are posted to the ledger for you, which helps you avoid the time and potential errors that come from posting payments manually. And since these payments are posted as transactions in the ledger, you can apply them as needed. You have all the same options you're used to when you manually enter patient payments.
Figure 2. The Edit Payments screen. This screen shows you the full details of the payment, imported automatically when the patient pays.
From Convenience to Cash Flow
Sending electronic billing statement notifications through Online Payments in Dentrix Ascend allows you to collect outstanding patient balances faster than traditional billing statement methods. Your patients will appreciate receiving statements the way they prefer to communicate, and they'll love being able to pay their bill online whenever it's convenient for them.
Increase your cash flow today with electronic billing. When you're ready to get started, watch the demo video of Dentrix Ascend Online Payments.
And visit Dentrix Ascend Online Payments to request a personalized demonstration.