Dental Charting and Imaging Software
The clinical side of your dental practice drives production. To increase production, you and your clinical team must improve your efficiency in the operatory. The right dental imaging software and dental charting software can help improve both your clinical efficiency and your patient care. The clinical tools in Dentrix Ascend help save time, with advanced dental clinic system software, digital imaging and perio charting. Dentists and hygienists can work faster with customizable displays and better visibility into each patient's oral health.
REQUEST A DEMO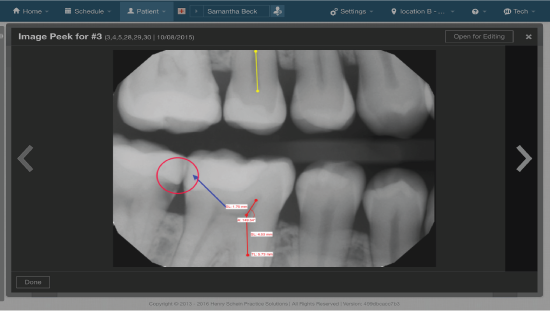 Instantly Download and Share Digital Images
The dental imaging software included with Dentrix Ascend delivers high-quality dental images immediately to all of your providers and locations. You can easily store, share and attach images to patient records and insurance claims.

Learn more about Dentrix Ascend Imagingplay_arrow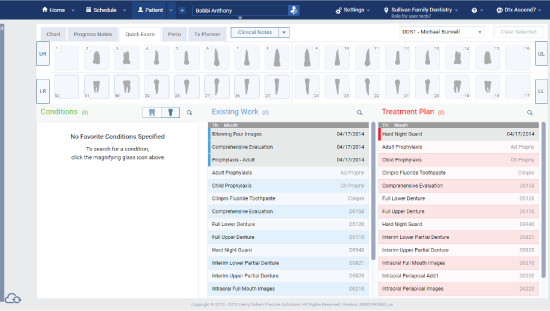 Quick Exam
First-time patient evaluations need a different workflow. Dentrix Ascend Quick Exam lets you rapidly document baseline charting for a new patient's full exam and helps make re-establishing previous patients quick and easy.

Learn more about Dentrix Ascend Quick Examplay_arrow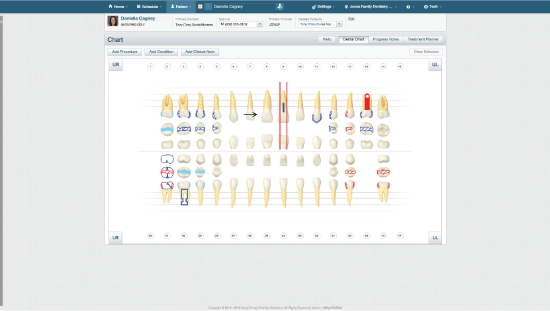 play_circle_filled
Customize Your Clinical Charts With Dental Charting Software
The patient charting software in Dentrix Ascend can easily add procedures, conditions and clinical notes to patient charts. You can also group related procedures into multi-codes.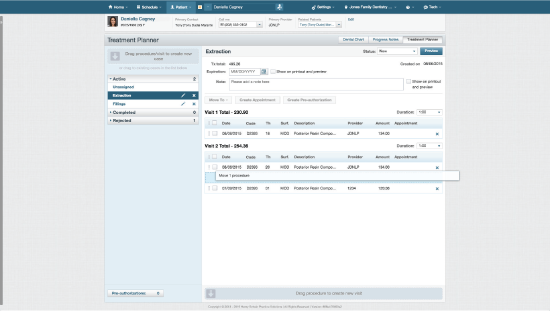 play_circle_filled
Quickly Create and Track Treatment Plans
The best dental treatment planning software should work for you — not the other way around. The Dentrix Ascend Treatment Planner does just that, by letting you quickly create a dental treatment plan chart with built-in templates and descriptions. It also improves case management by automatically tracking plan acceptance, scheduling and progress.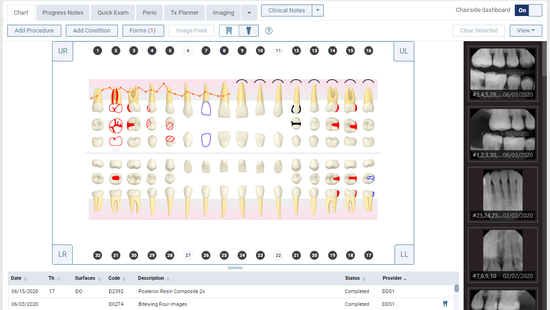 Streamline Clinical Processes with Chairside Dashboard
The chairside dashboard streamlines processes and saves time with quick access to essential patient information in a single view. In addition to customizable symbols shown for each tooth, the chart can be overlaid with recent perio results. Current and historical images are accessible in the right-side panel and can be enlarged and annotated. Progress notes can be viewed in the bottom panel where they can be selected for editing. Clinical notes can be entered manually or through voice perio charting, in a resizable, movable window, while dashboard data remains in view.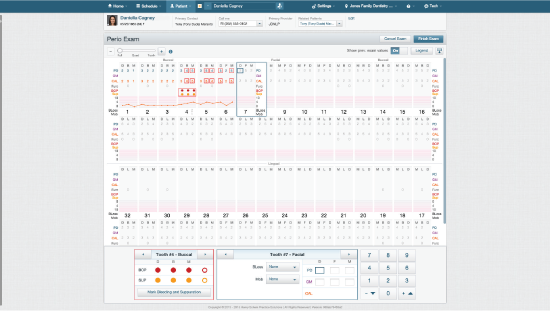 play_circle_filled
Improve Patient Care and Education
Both the Dental Charts and Perio Charts include the ability to add patient procedures and notes, monitor periodontal progress, and educate patients about their oral health needs.
Request a Demo